Microbiotic Max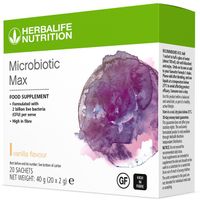 Microbiotic Max has been formulated to offer you a combination of probiotics and prebiotic fibre, that work together in harmony to help support your nutrition goals. Each serving contains 2 billion live bacteria from strains of Bifidobacterium lactis and Lactobacillus helveticus.
This product is high in fibre and available in powdered sachets, making it perfect for you to take wherever you are. With a subtle vanilla flavour, enjoy Microbiotic Max with water or your favourite Formula 1 shake.
Key benefits
Contains a combination of both Probiotics and Prebiotic Fibre
Delivering 2 billion live bacteria (CFU) per serving
Gluten-free
High in fibre
No added sugar
Contains no sweeteners, colours or preservatives
Vanilla flavour
No need for refrigeration
Perfect for when you are on-the-go
Details
Microbiotic Max is sold in boxes of 20 sachets.
Add 1 sachet (2 g) to half of a glass of water (approx. 100 ml), stir until dissolved and enjoy. Drink on its own or add to your favourite Formula 1 shake. Please add after blending and use liquids at a temperature below 25°C to avoid affecting product efficacy. Enjoy Microbiotic Max once a day.
Use this product within a balanced and varied diet, as part of a healthy, active lifestyle.